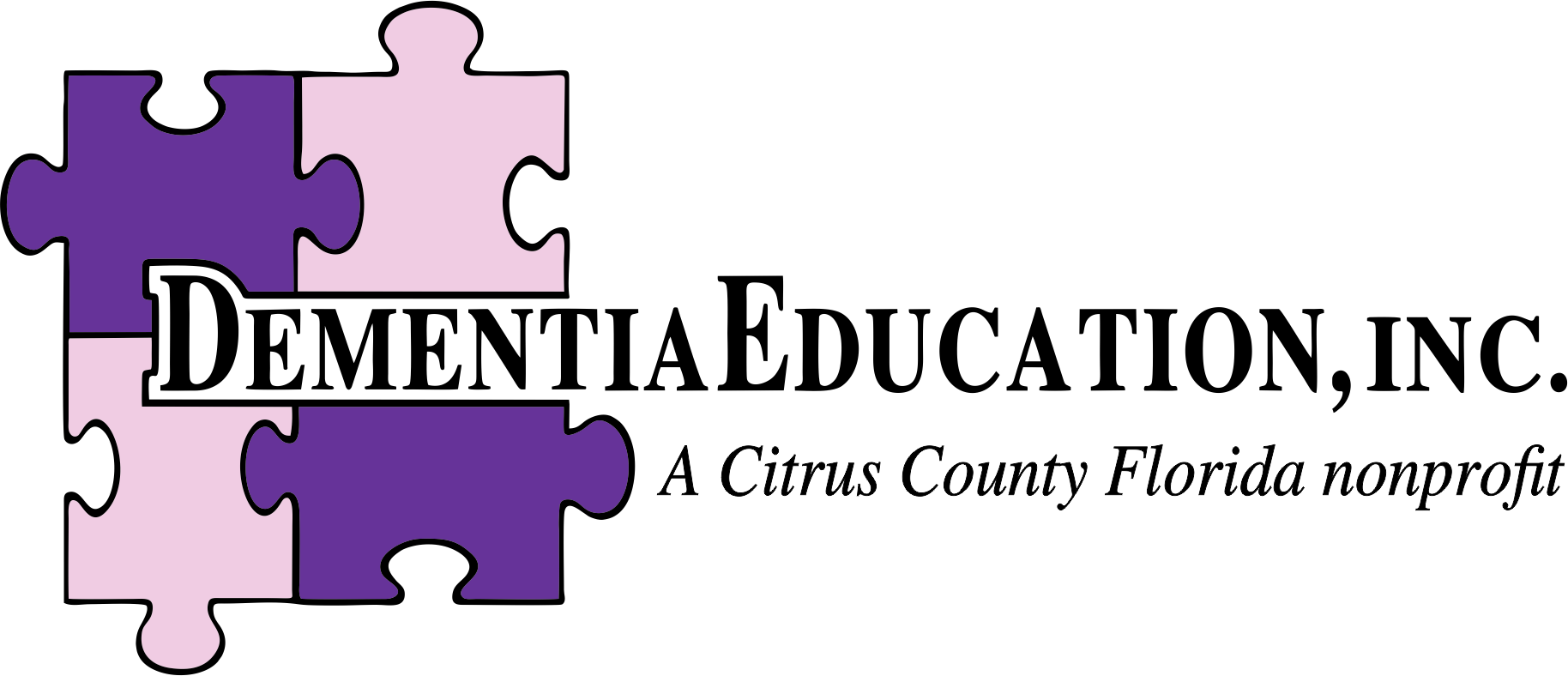 "Promoting compassionate dementia care through education."
Projects

Dementia Education, Inc. is dedicated to identifying and funding projects, publications, and events that will fulfill its mission to educate the public at large in a better and more accurate understand of memory disorders.  Please check back occasionally
to read about our latest projects or works-in-progress.
Eleventh Project:
June 2022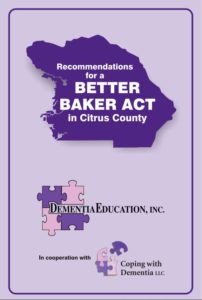 Originally undertaken by Coping with Dementia LLC in 2014, Dementia Education Inc has joined the initiative to find ways to make Florida's Baker Act more humane for seniors, especially those living with Alzheimer's and forms of dementia. A plan by LifeStream Behavioral Services to create a Baker Act facility in Citrus County has become an opportunity to propose changes in protocols that will improve transportation, training, environment, and public education in ways that will result in a "Better Baker Act" that will benefit all of Citrus County and stand as a model for improvement throughout the State of Florida.
Tenth Project:
June 2022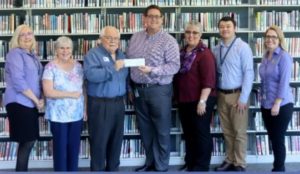 Thanks to a $3,000 grant from Dementia Education Inc., families living with dementia will soon be able to check out Compassionate Care Kits to enhance the quality of life of their loved ones. The kits will be available by June 2022 in different themes. Pictured are Dementia Education Inc. officials presenting the check to Library officials to make the program possible.
To learn more, click https://www.citruslibraries.org/general/citrus-libraries-and-dementia-education-expand-partnership/?fbclid=IwAR1o9eviAMxfGqgIy7R1SFBFK63WTxC_sjNpjFBYQyaU3exFfLiyYPwCnF8.
Thank you Citrus County Libraries for always being there to supporting our community!
Ninth Project: 
 February 2022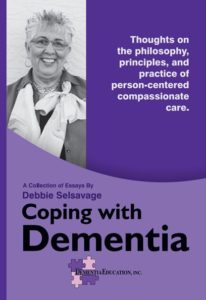 Since 2016, the Citrus County Chronicle has published a monthly column by Coping with Dementia President Debbie Selsavage which has become a reliable resource for care partners caring for loved ones living with dementia. Its popularity has resulted in the re-publication of these columns by four other regional publications, and in 2022 Dementia Education, Inc. will publish a compilation of the 72 columns that have been published over the past six years. It will be distributed free of charge at dementia learning events throughout west-central Florida, and available at Amazon.
Eighth Project:
February 2022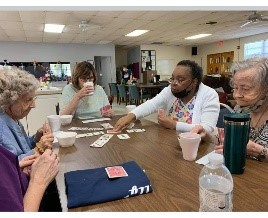 The nonprofit Key Elder Care is the only adult daycare program in Citrus County licensed by the Florida Agency for Health Care Administration that provides services for individuals living with dementia. To support and encourage this initiative, in 2022 Dementia Education, Inc. will provide funding of $3,000 to subsidize the cost of this valuable service
Seventh Project:
Initiated, 2020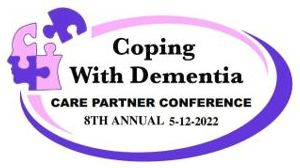 Since 2015, Coping with Dementia LLC has organized a free annual Family Care Partner Conference. The event, which attracts 150 to 200 attendees per year, has been both on-site and virtual, but in 2022 it will provide both: a one-day event for the citizens of Citrus County that will be streamed live on the internet. Since 2020, Dementia Education has become a funding sponsor for this even
Sixth Project:
Initiated, 2020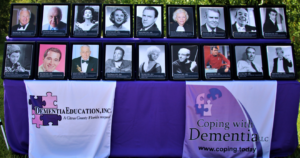 Dementia Education has partnered with Coping with Dementia LLC to maintain The Famous Americans Dementia Education Photo Exhibit, a traveling exhibition of portraits and bios of more than 50 famous American authors, artists, musicians, politicians, athletes, actors, and entertainers who are living with or have succumbed from dementia. Provided free to public venues, this exhibit has been seen in public libraries in four counties throughout west-central Florida and has been viewed by an estimated million people.
Fifth Project:
Initiated September, 2019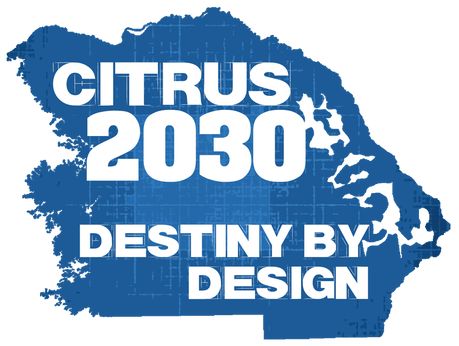 Citrus 2030 is a visioning project with the goal of creating Citrus County's strategic pathway to the year 2030. Consistent with its vision to make Citrus County, Florida an internationally recognized center for dementia care practice, research, and learning, Dementia Education, Inc. is monitoring and participating in the Citrus 2030 process. To the extent that Citrus County already has a strong healthcare industry that is a leading driver of employment and its economy, our Board believes that our ambitious vision is realistic. Dementia Education, Inc. will report on relevant developments in Citrus 2030 when appropriate. For more information click HERE...
Fourth Project:
In print October, 2019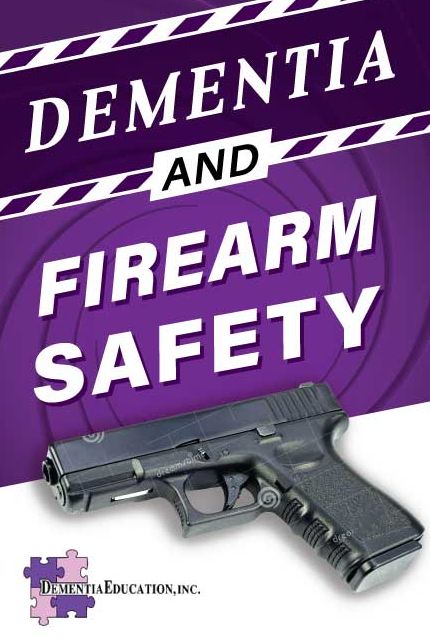 Today, almost 6 million Americans are living with Alzheimer's disease or some other form of dementia. By 2040, this population is expected to grow to 16 million! Within our population of seniors -- 65 and older -- 27 percent own one or more firearms. Eighteen percent of individuals diagnosed with dementia live in a home with firearms, and among these, 37 percent experience delusions and 17 percent have experienced hallucinations.
Everyone knows that Alzheimer's results in memory loss. But this is only the tip of the iceberg! Dementia erodes good judgment, reduces cognition, slows reflexes, and impairs the senses, including vision, hearing, manual dexterity, and fine motor skills. In addition to delusions and hallucinations, it often results in paranoia. In short, dementia attacks and destroys every mental, physical, and emotional ability that we need to become safe and responsible firearm owners.
This handbook is not "anti-gun." It is about understanding dementia and avoiding accidental injury or worse, just as one would with power tools, appliances, and automobiles in a home where dementia is present. A firearms dealer was on its editorial team, and firearms experts, including law enforcement personnel, were consulted for its content. Its basic premise is that with knowledge and planning, families can make themselves and their loved ones with dementia safe without calling in outside agencies to take away anyone's guns.
Click Here to view the interview on WYKE "Citrus Today" about Dementia and Firearm Safety.
Available at Amazon.com. To purchase in quantity, call 614-519-2843.
Third Project:
Announced August 6, 2019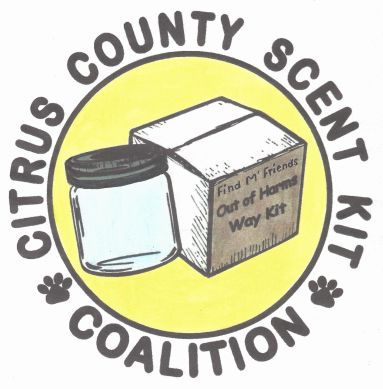 The Citrus County Scent Kit Coalition is a public awareness initiative intended to promote the
distribution and use of human scent preservation kits. "Scent Kits," as the devices are commonly
called, enable bloodhounds to work more quickly and efficiently by providing a pure scent of a
person they are seeking. Consisting of a simple, sterile jar, Scent Kits have been tested to retain a
unique human scent for up to eight years!
More than 10,000 Scent Kits have been distributed in Citrus County and have featured in
many successful bloodhound-assisted rescues. While they are often used to safeguard individuals
living with Alzheimer's disease and other forms of dementia who wander and become lost, they are equally effective for people of any age, including school children.
The Citrus County Scent Kit Coalition is a very simple idea. There are no dues and no requirements to join; only the willingness to go on record as a supporter of the use of Scent Kits.
For more information, or to join the Coalition, call 614-519-2843.
Second Project:
May 2018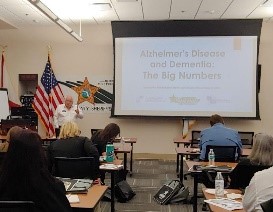 In 2018, Coping with Dementia LLC collaborated with the Citrus County Sheriff's Office to create an educational and training event entitled A Summit to Protect and Serve our Seniors, and invited law enforcement agencies from throughout the Nature Coast Region. Its purpose was to teach law enforcement personnel how to better understand and communicate with individuals living with dementia. Since 2019, Dementia Education has been a participant, and in 2021 became a funding sponsor.
First Project:
Completed December 2018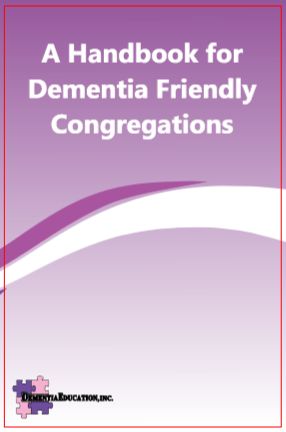 A Handbook for Dementia Friendly Congregations
Alzheimer's and other forms of dementia are expected to grow exponentially over the coming decades.  Absent a cure, this trend will overwhelm America's health system, and much of the burden of care will fall on families and private sector organizations.  Religious communities, regardless of faith or denomination, can play a significant role in meeting this demand because so many embrace compassion and social responsibility, and already have community outreach programs in place.
This handbook is intended to aid these congregations.  It explains how to train members and leadership in Alzheimer's awareness and compassionate care, how to recognize members of the congregation who may be living with dementia, how to create the structures within a congregation to respond both internally and outward toward the community at large, how to help and serve families living with dementia, and how to create programs and services that will make any religious institution more dementia friendly.
Available at Amazon.com.  For pricing on orders in quantity direct from Dementia Education, Inc. please contact dementiaed@aol.com.